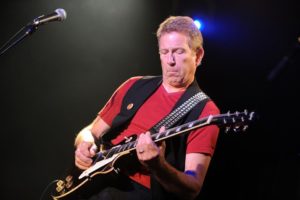 Welcome!
You could consider Michigan-born guitarist Mark Tomorsky to be a renaissance man, a guy who does it all. Performer, multi-instrumentalist, songwriter, composer, producer, engineer, programmer, designer, builder, the list goes on. "That's probably why I've gone under the radar for so long, I haven't stopped to do just one thing. I'm addicted to creativity and learning everything and anything I can!"
Mark toured in the glorious 80s, spent his time in the studios during the 90s, performed around the US throughout the 2000s and is currently writing, producing and performing in Los Angeles, CA.
Mark embraces the roots of blues, rock and country and mixes them liberally with bits of jazz, soul and pop. His work has been heard on Television, Film and Radio.
His latest release is the self-titled "Little Mystery" a Country/Americana album with singer/songwriter Khristina Kay and is now available.
A guitar instrumental album is in the works, culled from various sessions throughout the years.